(November 2020)
I was gathering Informations about some really use- and powerful 3D Audio Software.
Sound Particles is a sound design software application which creates a broad number of sounds in a virtual 3D audio world.
SP basically uses the concept of computer graphics, but for audio: each particle represents a 3D sound source (instead of a 3D object) and a virtual microphone captures the virtual sound of the particles (instead of the virtual CGI camera).
Imagine that you want to create the sound of a battlefield with Sound Particles. You could create 10.000 particles (sound sources), spread them over a square mile, pick 50 war-related sounds from your sound library and render the entire scene with a virtual microphone (5.1, Dolby Atmos 9.1 bed, etc.). Each particle would randomly select one of the war-related sounds for reproduction, which means that some particles would reproduce the 1st audio files, other particles would reproduce the 2nd audio files, and so on. Also, each particle (sound source) would be positioned randomly on a square with a length of 1 mile. To obtain more interesting results, movement modifiers would add motion to the particles and audio modifiers would apply random gains, delays, EQ or time/pitch variations. The virtual microphone will be responsible for capturing the virtual sound of the scene, based on its position, direction and the position of all particles. The sound of all particles is rendered, taking into consideration things like propagation attenuation, speed of sound and Doppler effect.
The Outputformat ranges from Stereo up to immersive audio formats, such as Ambisonics, Dolby Atmos, Auro 3d and much more.
There is also an free educational license available.
#SoundParticles #Immersiveaudio #3Daudiotools #Standalone
Envelop4Live is used for the spatialization of immersive sound in all Envelop listening spaces, yet it can also work with any DIY speaker array (4 speakers minimum) or even normal headphones. E4L creates an open and accessible path for artists, producers, and designers, to create immersive audio and explore 3D music composition.
As described above Envelop offers different Venues (virtual and "real" ones) where your compositions can be reproduced. https://www.envelop.us/venues
Envelop also created other very convenient tools for Higher Order Ambisonics like "Earshot" an "EnvelopLX":
.Earshot is a free and open-source transcoder for live streaming Higher-Order Ambisonics. Using Earshot, spatial audio developers can build new and innovative immersive live experiences for the web. Earshot solves the problem of getting audio or video content with non-standard audio channel configurations (i.e., beyond stereo or 5.1) from a source computer to the browser. It is based on nginx, MPEG-DASH, and the Opus codec which supports up to 255 audio channels (or 14th-order Ambisonics.)
.EnvelopLX is an interactive lighting application used within the Envelop venues. It runs in Processing using the LX Studio framework. The system may be controlled directly, or via remote OSC control from Envelop for Live devices, which can be composed and sequenced within Ableton Live 10. Real-time spatial audio metering and position data can also be used to control animation.
https://www.envelop.us/software
Halo is basically an up- and downmix plugin for 5.1 and 7.1 speaker configuration. Nugen also offers the 3D Audio extension, which can upmix also Atmos and Ambisonics.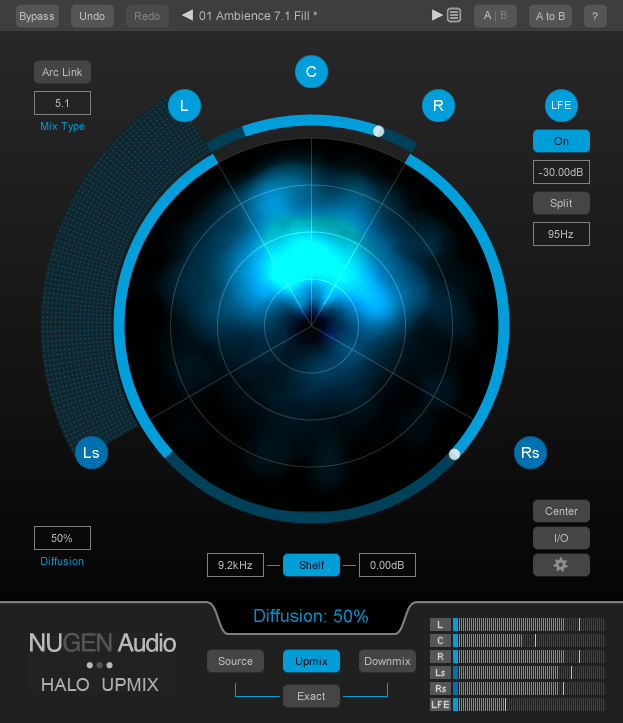 "Halo Upmix delivers all the control you need to fine-tune your surround mix to perfection. With unique centre channel management, including switchable dialog extraction, Halo Upmix is perfect for all types of production from archive restoration and TV through to the full 7.1 feature film experience.
An optional 3D extension adds Dolby Atmos bed track (7.1.2) and Auro 3D (7.1.4) compatibility, and Ambisonic outputs."
"The optional 3D Immersive Extension introduces additional vertical controls via an expanded user interface including control over Ltm and Rtm placement for Dolby Atmos compatibility. An additional real-time analysis view is also included for the vertical dimension, showing energy distribution of the output audio. The enhanced upmix algorithm allows for simultaneous use of all the original features including dialog isolation and individual channel output control.
The 3D Immersive Extension is suitable for numerous applications including sound design, film score, restoration & archive, music and atmospheric soundscape production."
With a price about 600 Euros this tool is definitly more for professional studios than home users.
Create one mix for all formats, from Binaural, Ambisonics & Multi-Channel (from 5.1 to 13.1) with just one tool.
dearVR PRO lets you create ultra-realistic acoustics with 46 virtual room presets, from car to cathedral.
Enhance your mixes for music, post production, games, VR, AR and 360° video productions with the most natural room simulation and advanced 3D panner.
Virtual Room-Acoustics in VR
(free)
360° Mono and Stereo Panning
Enjoy new creative mixing possibilities in a full three-dimensional space far beyond the reach of a simple stereo panner. dearVR MICRO enables you to position signals in any location left, right, above, below, in front or behind your head – instead of only left or right.
The parameters Azimuth and Elevation give you control over the horizontal and vertical position of your audio source in degrees. Adjust the perceived stereo width of your stereo sources in the three-dimensional space using the width knob.
DRVRMico also contains 3D binaural Room reflections and HRTF – Rendering.
(free)
dearVR AMBI MICRO allows sound engineers to mix, monitor and render Ambisonics tracks right out of the box.
With support of higher order Ambisonics formats as well as multiple binaural output monitoring (i.a. Facebook360 and YouTube VR) it is an all-in-one solution for 360° Video and VR productions.
Encode Ambisonics signals with dearVR PRO, mix with dearVR SPATIAL CONNECT and monitor head-tracked with dearVR AMBI MICRO.
Create ultra-realistic acoustic environments in Unity with a true perception of direction, distance, reflections, and reverb. dearVR UNITY, tested as the number one spatializer plugin for Unity with the best sound and the best externalization, offers positional 3D audio and true-to-life acoustic room virtualization.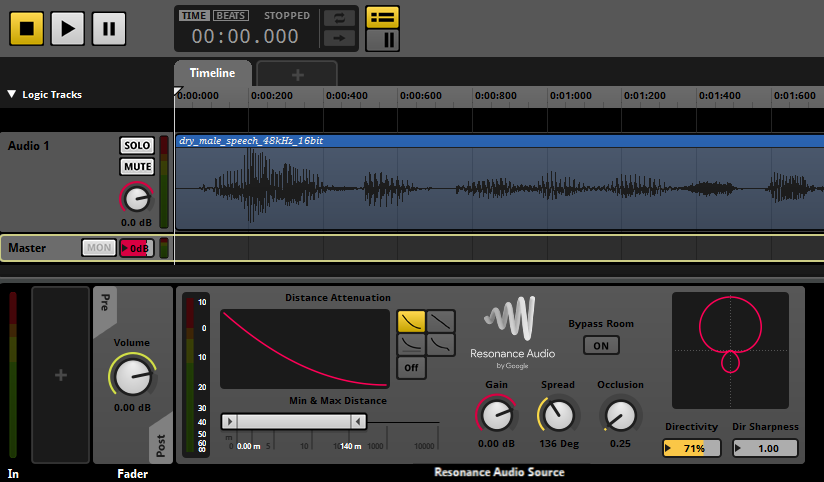 dearVR FMOD seamlessly integrates with your Unity or Unreal Engine project, giving you highly accurate spatialization of a large numbers of sound source. Adding ultra-realistic acoustic virtualization and phenomena like occlusion and obstruction gets you a fully immersive user experience.
BINAURAL, AMBISONICS & MULTI-CHANNEL MIXING
#Plugin #Gameaudio
Free Binaural X/Y based transformer
Anaglyph is part of an ongoing research effort into the perceptual and technical capabilities of binaural rendering. The latest incarnation, Anaglyph VST, has been designed as an audio plugin to both support ongoing research efforts as well as to make accessible the fruits of this research to audio engineers through traditional existing DAW environments. Amongst its features, Anaglyph includes a personalizable morphological ITD model, near-field ILD corrections and HRTF parallax selection, a Localisation Enhancer, an Externalisation Booster, and SOFA HRIR file support.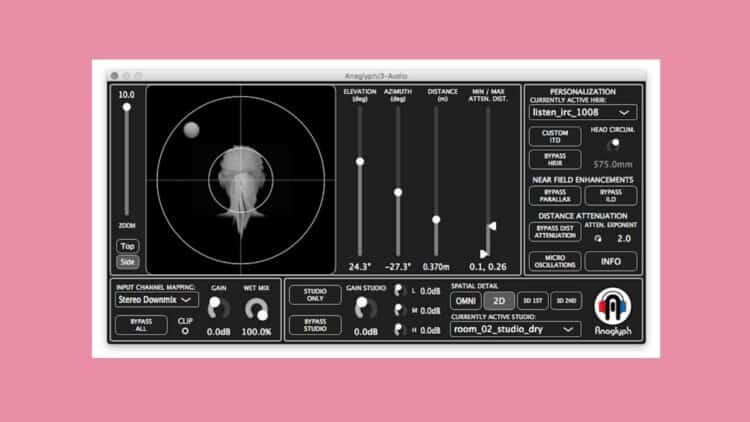 Pictures:
2 https://www.envelop.us/software
3 https://nugenaudio.com/haloupmix/
4 https://www.dearvr.com/products/dearvr-pro
5 https://resonance-audio.github.io/resonance-audio/develop/fmod/getting-started